Yesterday evening I finished the striped kimono, made from the Japanese bolt of brown stripes with of white and a little dark green. This morning I ironed the kimono so I could wear it and looked for appropriate obi… which I must admit is pretty hard with this kimono.
Here are some pictures:

Front
I choose a light weight nubby silk cream, obi with blue water pattern to go with the kimono, to emphasize spring, I added spring green accessories.

side view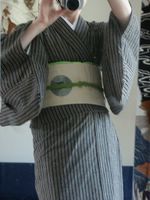 close of the obi
back of the sleeve. Here it is clear I put the stripes wrong. I did that on purpose because the bolt was just a little too short for me. So I sewed the kimono 5 cm shorter then would be ideal and used fabric from the collar to lengthen the sleeves because I really did not like the short length that was left for the sleeves.
inside hem, I strengthened my seems and hems with bias band.

The kimono with a pink obi, to coordinate with my pink geta.
close pink obi
My husband likes this more, more contrast. I am not sure. The first set reminds me of what I actually see outside right now. Brown trunks of trees with green leaves and some left over cream blossoms and flowers… With cream obi this set feels a bit more distinguished; with pink it becomes more casual, which is good too.