From this day on the hitoe kimono of June should be combined with a
ro or sha obi
.
Like this kimono obi combination:
Hitoe kurotomesode with ro silk maru obi and soft green ro silk accessories.
I tried to make a fan shape on the drum bow, it's suposed to be for very festive occasions, it makes the look slightly "younger" i like it I think it's a sweet look.
Two side views...
This kimono is really lovely and again purchased from
Ichiroya
They really carry a great collection and their service is just wonderful! Sometimes it's a good thing I do not have more money... I would buy like crazy *blush*
But, the kimono, it's gorgeous, made from soft crepe silk it has a soft very delicate yuzen painted pattern, the patterns are: little boats or rafts fishing nets pine, cornflower (at least that is what I think they are), (autumn) grasses, water waves. There's some fine embroidery highlighting some areas in a very subtle way. The maru obi is also from Ichiroya and is made of a nice soft ro silk, the woven patterns are in the same pastel-y shades as the kimonos are.
It would be great to have a hitoe obi that is formal enough to be worn with a kuro tomesode. But obi like that are really hard to find, at least I do not see them that often and if I see one that I like, its way to expensive...
I do own some hakata obi, they are really fun hitoe obi and strong and they have a very understated feel to them, but, they are informal not appropriate for formal kimono unless... you are a geisha or dressing up as one.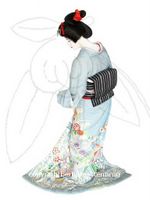 I really do not know why geisha sometimes wear hakata obi with their formal kimono, but they do there are also a lot of geisha dolls for sale that have this look.